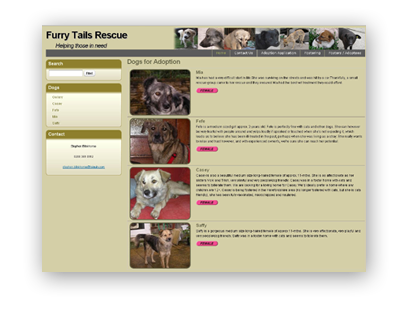 Furry Tails Rescue is a charity organisation that rescues stray dogs in Romania and arrangesfor them to be transported here to the UK. They required a website to make it easier for them to upload pictures of their dogs and to include a description and videos.
The site allows the charity to have several members to control thier own group of dogs, which will spread the workload amongst its members. 
Included in the site is their standard application form where potential dog owners can apply to adopt a dog. This has made it a lot easier for the charity as it gives them another means to gather vital information about potential dog owners.
The site was developed using Drupal 7 and the Omega theme. CSS3 was used to create some of the better visual effects and views were used to display the current list of dogs up for adoption.